Copyright © BRINOS 2006-2021
BRINOS : A charity dedicated to the prevention and cure of Ear Disease in Nepal







We were first introduced to the WEPA through Jonathan Blanchard who was on Ear Camp #52. He had met Jason Wheeler and his friends who were staying at Tigertops in Karnali just outside the Bardia National Park which is a two hour drive from Nepalgunj. The WEPA was holding a tournament there and on a charity day they raised £6000 for BRINOS.
By fortuitous planning we were able to be in Nepalgunj for Ear Camp #55 at the same time as the WEPA were training for another tournament, again at Tigertops. Jason Wheeler and some of his friends visited the BRINOS Ear Care Centre building and selected a consulting room which will be named the WEPA Room to commemorate their generosity.
On our day off we were invited to join a practise day at Tigertops and nearly all of us had a chance to play elephant polo. The elephants which are always female obligingly go down on their knees and the player mounts from behind using the curved elephant tail as a step. Once installed on the sacking saddle the mahout, who steers the elephant, binds the player firmly in place with a rope.
The player if male has one hand to swing the long polo stick (the ladies are allowed to use two hands) the other hand holds onto the rope end which helps the player to stop falling off if leaning too far over the side of the elephant. This quite often happens if the ball, which is the same size as a conventional polo ball, gets under the elephant and out of view.
The object of the game is to score goals. The real challenge though is that there are three minds at work - the elephant's, the mahout's and the player's! Getting all three to work together leads to success.
BRINOS and the WORLD ELEPHANT POLO ASSOCIATION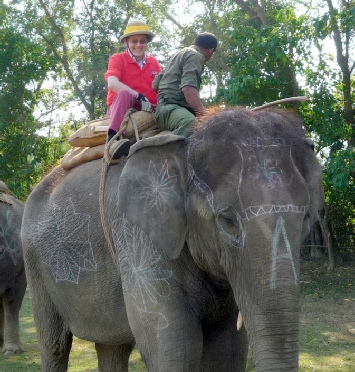 We had the most enjoyable day. Jason and his friends were most hospitable, Tigertops provided a delicious lunch, and the group photograph [top of page] with Jason in the green shirt in the middle tells it all. See their web site for more details of the WEPA
Ellis Simon after scoring a goal