Copyright © BRINOS 2006-2021
BRINOS : A charity dedicated to the prevention and cure of Ear Disease in Nepal







Primary Ear Care Programme
Many cases of deafness in developing countries are preventable, particularly chronic ear infections. With this vital fact in mind BRINOS has developed with its partner agencies a sustainable Primary Ear Care Programme in the west of Nepal. This programme, established in March 2000, has become a model of deafness service provision in remote rural areas.
The programme, modelled on a successful Community Eye Care and Health Improvement Programme (CEHP) Project of the Nepal Red Cross Society (NRCS), has until recently been supported by the Swiss Red Cross, the Nepalgunj Medical College (NPMC) and the Bheri Zonal Hospital. In early 2009 a new NGO was formed, named the "BRINOS Ear Health Community Service (BEHCS)".
Community Ear Care centres around the training and appointment of Community Ear Assistants (CEAs). These individuals have undergone basic training as a Community Medical Auxiliary, followed by intensive training in ear care undertaken by Dr.Ramesh Kumar Shrestha, at the Bheri Zonal Hospital in Nepalgunj.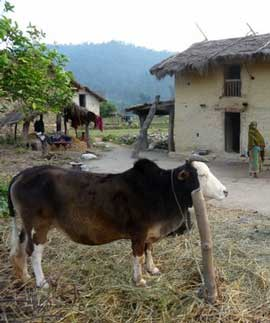 The first CEA appointed was Mr.Puran Tharu. There have subsequently been five further CEA appointments, who now cover the districts of Banke, Bardia, Surkhet and Dailekh. In the rural villages liaison is between the CEAs and 880 female community health volunteers.
The community ear assistants with the support of the community volunteers undertake a number of important functions which include:
Primary ear health care education

Deafness screening in schools and villages

Treatment of ear infections

Referral of cases for middle ear surgery

Hearing aid issue and maintenance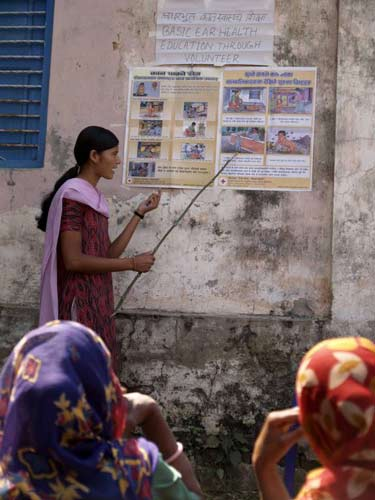 Mr Puran Tharu, the first Community Ear Assistant (CEA) in Nepal. Here performing tuning-fork tests on a patient's hearing.
A community volunteer teaching the prevention of deafness and ear disease