Copyright © BRINOS 2006-2021
BRINOS : A charity dedicated to the prevention and cure of Ear Disease in Nepal







November 19

th

2016
During the 59th Ear Camp, November 2016, The BECC was formally opened.
Unveiling the plaque was Dr Neil Weir (Director of BRINOS) in the presence of Mr Bimal Tandon (Chairman of BEHCS).
The BRINOS Ear Care Centre was inaugurated by Dr.Neil Weir, founder Director of the Britain Nepal Otology Service, UK. The Ear Care Centre, registered by the Government of Nepal, is the first in the Western regions.
Mr Puran Tharu, on behalf of those present at the Inauguration, expressed thanks to Dr. Neil Weir and Madam Sue and all those who so generously supported BRINOS to fund the building of the Ear Care Centre. He also thanked Mrs Makhan Devi Shah and Cubex UK for their audiological support.
Mr Puran Tharu mentioned that the BRINOS Ear Care Centre is owned and managed by the BRINOS Ear Health Community Service (BEHCS) which is the sister NGO of BRINOS. BEHCS is chaired by Mr Bimal Kumar Tandon. Dr. Kashi Raj Gyawali is vice chairman, Mr.Rajesh Prasad Shrivastav, secretary, Mr. Mr Santosh Kumar Kanodia, treasurer, with Dr. Ramesh Shrestha and Dr. Milan Maharjan as members.
The concept of community ear programme came in 1999 from discussions between Dr Neil Weir and Mr Arnold Boulter who at that time was the Swiss Red Cross Delegate in Nepal, based at the Fateh-Bal Eye Hospital in Nepalgunj. The BEHCS was based on the existing Community Eye programme.
Mr. Puran Tharu was selected as the first Community Ear Assistant (CEA) in Nepal. Dr. Ramesh Shrestha provided a six month intensive ear care training course to selected CEAs.
Below is an edited transcription of the speech
by Mr Puran Tharu the CEO of BEHCS)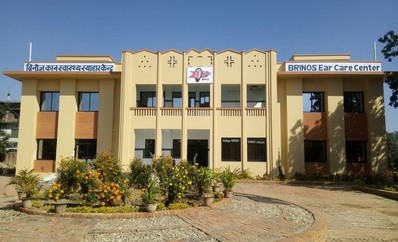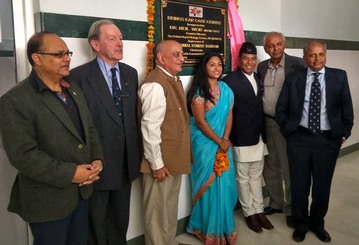 The Centre, complete with signs and foliage
Neil, Plaque and some of Nepalese BEHCS team.
The UK Camp #59 Team
the Plaque
The Inauguration of the BRINOS Ear Care Centre
In 2000 the community ear programme started working in 5 Village Development Committees (VDCs) i.e. Titihiriya, Naubasta, Bankatwa, Rajhena and Shamshergunj. In the first year the ear care programme was handled by the Fateh- Bal Eye hospital with the support of BRINOS, UK.
Then from 2001-08 the programme was managed by the Nepal Red Cross Society and PBL&Chip (Prevention of Blindness and Community Health Intervention Programme) with the continued support of BRINOS UK. In 2009 the BRINOS Ear Health Community Service NGO was registered in District commissioner Office Banke, again supported by BRINOS UK.
Dr. Neil Weir was made aware of space problems in the Fateh-Bal Eye Hospital and conceived the idea of building an Ear Care Centre. Land was purchased and building was developed with the support of BRINOS.
Mr Puran expressed his thanks to BRINOS and Dr. Neil Weir and hoped that this assistance will continue. He realised, though, that efforts should be made by BEHCS to make the Ear Care Centre sustainable through a combination of Government grants and self-sufficiency.
This would then secure the continued work in the prevention of deafness.