Copyright © BRINOS 2006-2021
BRINOS : A charity dedicated to the prevention and cure of Ear Disease in Nepal







Outward Bound
The team from the UK arrived in Kathmandu on 9th March. They had been concerned that their luggage weighed too much because much essential equipment was being carried. Fortunately with their personal luggage being light and the staff at Qatar and Yeti Airways being understanding, they arrived in Nepalgunj without incident.
Overview
They were met by Puran Tharu, the senior Community Ear Assistant, at the BRINOS Ear Care Centre. There followed an extremely productive Ear Camp during which 123 people affected by chronic ear disease underwent major ear surgery.
Range of Surgery
There were a mix of surgical procedures, including 24 more major operations for cholesteatoma, performed under general anaesthesia, expertly and safely administered by Dr Alastair McCrirrick.
The Patients
Many of the patients had experienced long and difficult journeys from hilly regions such as Rukum, Rolpa, Jagarkot and Surkhet, having been examined by the BRINOS Community Ear Assistants during outreach clinics.
Research
In addition to the surgery Catherine and Farizeh undertook quality of life research by interviewing patients with the help of Ram Bahadur, another of the Community Ear Assistants. This research emphasised the negative effects of ear disease and deafness on the lives of these people living in often poor and remote communities.
And Home ...
The team returned to Kathmandu where the Hindu Holi festival was taking place. This event involves the throwing of vivid coloured dyes and the team took part with gusto. After a suitable clean-up the team said their goodbyes to Nepal and returned back to the UK to resume work at their busy NHS jobs.
Robin Youngs MD FRCS
March 2019
64th BRINOS Ear Camp
BRINOS Ear Care Centre, Nepalgunj, SW Nepal
9-19th March 2019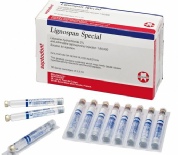 One of the packs of Lignospan,
by Septodont UK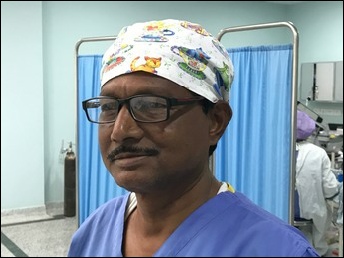 UK Team Members
Robin Youngs – ENT Surgeon, West Suffolk Hospital and Team Leader
Odette Ferrao – Operating Theatre Manager
Malcolm Hilton – ENT Surgeon, Royal Devon and Exeter Hospital
Fahmy Fahmy – ENT Surgeon, West Suffolk Hospital
Alastair McCrirrick – Consultant Anesthetist, Gloucestershire Royal Hospital
Catherine de Cates – ENT Trainee, Addenbrookes Hospital
Farizeh Ahmed – ENT Trainee, North Thames Deanery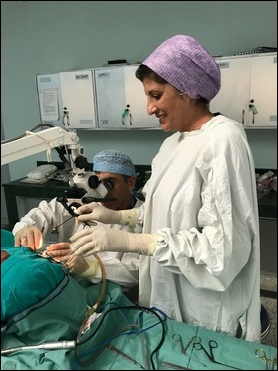 Mr Tushar Roy, a vital member of the Nepali BRINOS team
Odette Ferrao and
Fahmy Fahmy undertake middle ear surgery
A 9 year old boy who had travelled two days from the hilly area of Rukum to reach the BRINOS Ear Care Centre and have life-saving surgery for cholesteatoma.
Ram Bahadur leads the post-operative ward round
Odette, Catherine and Farizeh "relax" during the Holi Festival on their return to Kathmandu
… And if you want to see a lot more content, go to Twitter and look up:
@BRINOSOfficial and @BRINOSCharity, and why not "follow" them both?