Copyright © BRINOS 2006-2021
BRINOS : A charity dedicated to the prevention and cure of Ear Disease in Nepal







The camp started with Neil Weir, John Skipper and Dr Verma setting up a few days early and getting started with a considerable number of myringoplasties for 5 days before being joined by Angus' team.
This added Angus Waddell, Jonathan Blanshard and consultant anaesthetists Mike Entwistle and Ed Bick. They were ably assisted by Sister Rose Matthews from the BMI Ridgeway Hospital.
Having two anaesthetists made it possible to do four patients under General Anaesthetic cases each day.
In total the camp did 185 major ear operations and 4 other cases.
We took with us an additional second-hand microscope, now fixed to the wall in the out-patient department.
As part of the camp we made good use of the rigid endoscope in the clinic, resulting in a more efficient clinic and developing the ability to capture images with a view to keeping some sort of electronic record. BECC in Nepalgunj is now in many ways considerably ahead of the NHS.
We had a one day break in the middle of the camp and went for a picnic at the Bardia Wildlife resort where we were lucky enough to see two tigers in the wild, made all the more interesting in that very few of the Nepalis in the group had ever seen a tiger themselves.
Angus and Team Ready to Fly from LHR


Dr Verma, the permanent doctor at the BECC hospital.
Mr Roy - camp manager and general "go to" man who can fix everything.


Dr Neil Weir, acting as one of the surgeons, and planning for the future of BRINOS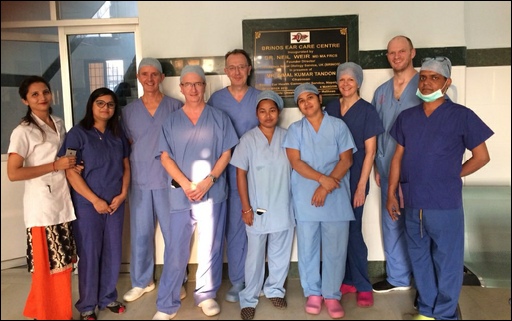 Team Photo Ready for Work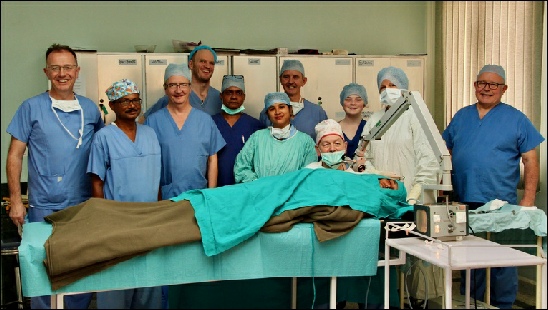 Team Photo - At Work
(Well, Neil and his theatre nurse are working)
Also there is Angus, Mr Roy, Dr Verma, Mike Entwistle etc.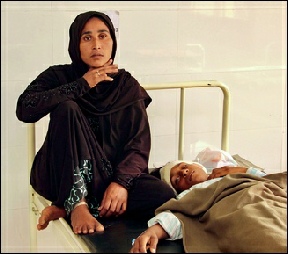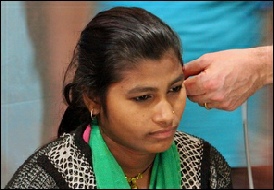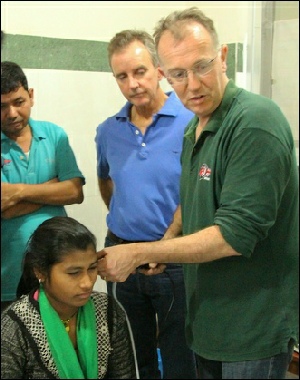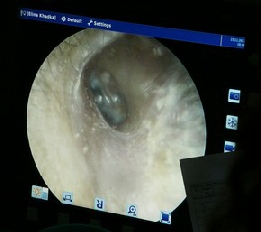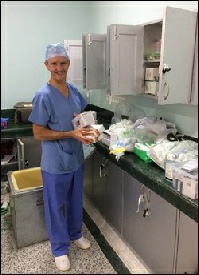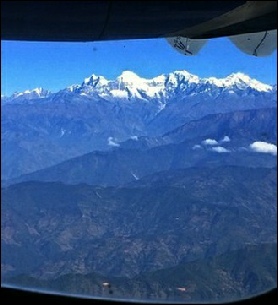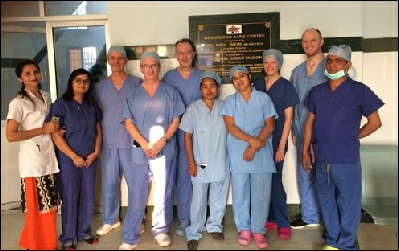 The Team from UK and Nepal
..including Angus Waddell, Jonathan Blanshard & consultant anaesthetists
Mike Entwistle and Ed Bick, Sister Rose Matthews & Dr Verma etc.
And to sum up…
Ear Camp #61 finished and was left all packed up ready for Camp #62 in March 2018.
185 major ear operations done this time.
26 under general anaesthetic.
New kit delivered for screening deafness in newborns.nd to sum up…
The Real-Time image of the patient's ear canal produced by the endoscope.
Observing results "off line": Useful for further training and analysis.
I found this picture in Tim's collection. Such peace in the woman's face. That enigmatic look and the dosing child's hand laying carelessly towards "mum".


I think the team can say "result!" for these two.
It just had to go in!
Thanks Tim!
(Web Master)
Patient undergoing investigation with the endoscope, showing complete ease and comfort.
Angus performing an investigation with the endoscope to make an instant diagnosis. This facilitates "live" discussion and provides the opportunity for training.
"We should fix nearly 200 patient's ears in the next 2 weeks.
Have arrived in Nepalgunj with BRINOS_UK_NP. Got set up with the anaesthetics kit and ready to do first big cases tomorrow - but already have some Local anaesthetic cases done - and it's only Sunday afternoon. Happy Days
Extracts from Angus' Tweets From Nepal
Everything in its place…
And
A place for everything?
Work has started with the fixed microscope…
Posted
10:44 AM 12 Nov '17
Week 1 complete on Ear Camp 61 and we have done 136 major ear operations so far, teaching two great doctors and three excellent nurses.
Seen several deaf children who have then missed out on education and have limited prospects ..... there's so much more to do.
Image extracted from the Last of the Tweets:
Three guesses where this is!
Sorry, in improving the clarity, I've distorted the "tonal perspective" .
I've reduced the "mist" but left much of the "blue distance-tinge" In short everything looks closer and smaller.
Don't be deceived. Nepal is a
big and rugged place to live and
to travel.
The original presents and the
true height & scale 29,000ft?
(Web Master)
61st BRINOS Ear Camp
7th November to 22nd November 2017
In the BRINOS Ear Care Centre, Nepalgunj

…and some of the Team aleady on site