Copyright © BRINOS 2006-2021
BRINOS : A charity dedicated to the prevention and cure of Ear Disease in Nepal







Neither the Nepalese people or BRINOS will forget the help from the British Army's Humanitarian Medical Mission. Follow the sub-menu items or this link to view the article which has been extracted from the British Royal Army Medical Service Prospectus 2015 (AMS) and written by Cpl Takajit Gurung.
Interestingly, Tikajit is of the Gurkha tribe as he is a Gurung. but he was acting as a member of the British Royal Army Medical Corps, not the Gurkha regiment. The Gurkha Regiment actually takes recruits from the many tribes all over Nepal.
Alternatively please view the original AMS Prospectus online (8 Mbytes). It presents summaries of the roles undertaken by the British Royal Army Medical Corps. See Page 58 for the full article by Corporal Tikajit Gurung.
Extract from Cpl Takajit Gurung's article in the Army Medical Services Prospectus.
One of the most compelling stories I have encountered during this mission was of a 7 year old boy named Bibek with chronic otitis media who was suffering from severe hearing loss.
This boy was so ashamed of his hearing that he very seldom left his home. The other children called him "deaf", and when he did go outside, he went with his parents.
His family was devasted and had long given up hope for possible treatment due to lack of money and no health post in their local community.
With encouragement from Nepalese Community Ear Assistants (Trained by BRINOS) Bibek and his father travelled three days on foot to get to the "Ear Camp" in Nepalgunj. Thanks to the team and a host of sponsors, Bibek underwent a 2 hour operation and now smiles every day and graciously shares his reality of the "gift of life".
British Army's Humanitarian Medical Mission to Nepal.
Where they applied their Surgical Expertise
alongside the BRINOS Ear Surgery Team


When The British Royal Medical Corps Took part in a BRINOS Ear Camp as one of their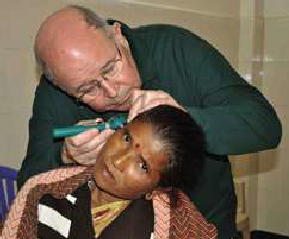 Group Captain skipper performing pre-op examination
Cpl Takajit Gurung giving a talk on ear care to local students.
Army Humanitarian Medical Mission Team
Group Captain skipper (ENT Surgeon)
Cpl Takajit Gurung's (ODP)
BRINOS Team, Ear Camp 51 Team