Copyright © BRINOS 2006-2021
BRINOS : A charity dedicated to the prevention and cure of Ear Disease in Nepal







60th BRINOS Ear Camp, in Nepalgunj
26th February to 7th March 2017
This camp was the first time that this team, mostly old BRINOS hands, had worked in the new Ear Care Centre in Nepalgunj.
The opportunity to treat patients in a modern and functional environment was a real pleasure.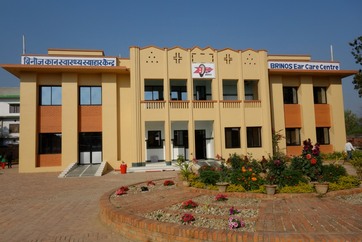 The new BRINOS Ear Care Centre
The team had travelled overland to Nepalgunj from Lucknow in Northern India. Travel in this part of the world is never simple and the border was "closed" because of elections in the State of Uttar Pradesh. Patient negotiations with a very understanding Indian Army Major assured us safe passage, however.
Once in Nepalgunj, the team set to work with the usual pattern of 12 hour days. This allowed the completion of 116 major ear operations.
Patients came from a large area of Southern Nepal and adjacent India, with many travelling for many days by foot and bus to reach the Ear Care Centre.
Mr Puran Tharu and his fellow Community Ear Assistants had done their usual excellent job in selecting patients most in need of reconstructive surgery to restore hearing and prevent life-threatening complications. Robin Youngs and David Jonathan were able to assess the skills of the trainee CEA's and confirm that their skills had progressed.
James Rudd undertook some interesting Quality of Life research which emphasized the real stigmatization that patients with ear disease in Nepal and India face. These included poor access to education and difficulty finding suitable employment.
At the end of the camp the team returned to Lucknow with the border being again "closed", on this occasion due to a strike on the Nepal side. Once again some negotiation with the border police allowed us to pass through.
Visiting Team members:
Robin Youngs ENT Surgeon and Team Leader – UK
Odette Ferrao Theatre Manager – UK
Malcolm Hilton ENT Surgeon - UK
David Jonathan ENT Surgeon – UK
Urmila Gurung ENT Surgeon – Nepal
James Rudd Trainee ENT Surgeon – UK
Jonathan Purday Consultant Anaesthetist - UK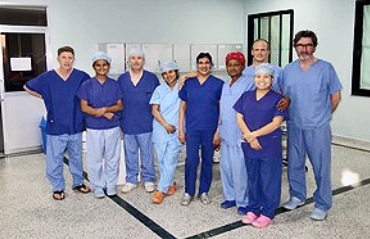 The operating theatre team at the end of the camp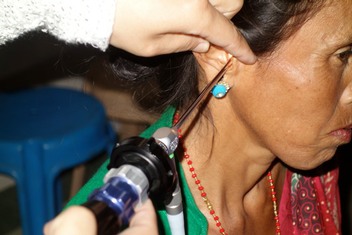 Using the new Storz endoscopic equipment to assess ear disease
Urmila Gurung undertaking middle ear surgery assisted by Pashupati Chaudhary