Copyright © BRINOS 2006-2021
BRINOS : A charity dedicated to the prevention and cure of Ear Disease in Nepal







Operating In the BECC (Ward) - Nov 2015
The 57th BRINOS Ear Camp arrived in mid-November. For this camp, the recovery ward was on the ground floor and the 184 operations happened in what will be the ward on the first floor.
For more information about the camp, see the "Camp #57" report page, By Mr Angus Waddell, (ENT surgeon and Camp 57 Leader,
At this poont the Centre is effecively ready, but there are rooms to be finished internally and a lot of albeit-less-urgent work to be completed outside.
Two main items there, are the painting of the building and the initial landscaping, i.e. Setting the ground levels to remove hole and steps, and to remove the builder's "remnants".
Organised Chaos, preparing the Ward for use as the operating theatre
Some Images of the Centre (Nov2015)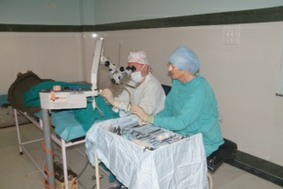 Neil and Sue Weir
Operating
The Ear Camp in "full Swing"