Copyright © BRINOS 2006-2021
BRINOS : A charity dedicated to the prevention and cure of Ear Disease in Nepal







Foundation, History and Aims of BRINOS


BRINOS was founded in 1988 by Neil Weir, Consultant Ear, Nose and Throat Surgeon to the Royal Surrey County Hospital, Guildford, UK.
It came about largely as a result of a meeting with the late Dr.L.N.Prasad, who at that time was Senior ENT Surgeon to the Bir Hospital in Kathmandu and Royal Ear Surgeon to the King and Queen of Nepal.
Dr.Prasad, at one time the only ENT and Eye surgeon in the country, was keenly aware of the urgent need to tackle the prevalence of ear disease in Nepal, as a survey of disability conducted in 1981 (the year of the disabled) found deafness to be the largest single disability. Dr.Prasad was urged by His Majesty's Government to plan future provision of ear care throughout the country.
His aim was to reach out to those people living far away from Kathmandu. As there was only a single modern ear surgeon and no funds for equipment it was difficult for him to realise his goal.
The twice yearly ear surgery camps were established as a direct response to Dr.Prasad's vision.
The Ear Camps have been run in Nepal, twice-yearly since 1989 and three times a year since 2008.
Staff from the UK include at least two ENT surgeons along with an anaesthetist and sponsored nurses.
Staff from Nepal, as full team members, enhance their surgical skills and assist in the delivery of primary ear care.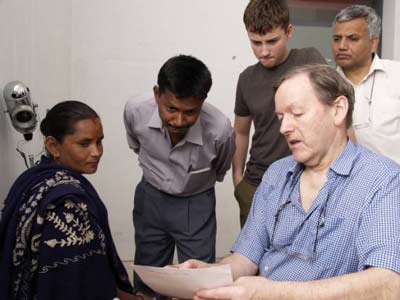 The late Dr.L.N.Prasad
Image by kind permission of the Tokyo Helen Keller Association, Inc (THKA)
Neil Weir explaining "the problem" and his "plan of action" to the patient, with interest from members of the team.
To assist Nepalese ENT surgeons in providing expert treatment to those people suffering from ear disease living outside the reach of the ENT departments in Kathmandu.

To help in the training of young Nepalese doctors making a career in ENT surgery.

To raise funds for instruments and to send highly qualified people to take part in ear surgery operating "camps" until such time as there are sufficient Nepalese surgeons to staff the Regional and Zonal Hospitals.

To advance Primary Ear Care as a means of reaching out to the greatest possible number of ear disease sufferers.
Doctor Kashi Gyawali, trained by BRINOS, demonstrates ear surgery