Copyright © BRINOS 2006-2021
BRINOS : A charity dedicated to the prevention and cure of Ear Disease in Nepal







A Few Photo's to Show Ear Camp #58
(#2 in the BECC), Spring 2016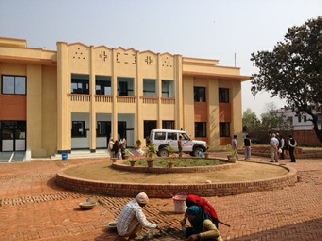 Finishing Touches to the Driveway
More to follow when The Team is debriefed
Neil Weir and Kashi Gayawli at Work
Operating Theatre:
The whole room with 3 tables with patients being operated on
This service is obviously much valued by the patients:
One man had walked for 5 days, then taken a bus for 2 days to reach the Brinos Ear Care Centre for his operation!
(Reports Sue Weir)
Interim Progress
By Saturday, 103 operations had been completed.
Saturday is a day off but we did five more operations in the morning before going marketing and having a delicious curry lunch cooked by Mr Tusha Roy in the kitchen at the hospital.

We then played cricket, badminton & volley ball with all the helpers & volunteers.

Mr Puran's 13 yr old daughter also entertained us with some Nepali dancing. Sunday will be another full day with 16/17 operations!
Sue Weir Saturday 5th March 2016
Preliminary End of Camp Report (Mid March 2016)
The ten day #58 Spring 2016 Camp has now ended. The team, that was once 2, then three and then 4 surgeons, are now back in the UK with their support team.
The final total was 153 ear operations on patients from a very wide area of Nepal
So its thanks to the work of Mr Puran's Ear Health Care Team for putting in the travel, for creating awareness, for offering primary care and for selecting the surgical patients.