Copyright © BRINOS 2006-2021
BRINOS : A charity dedicated to the prevention and cure of Ear Disease in Nepal







57th BRINOS Ear Camp, Nepalgunj, Nepal 15th – 27th November 2015
The team for Camp 57 travelled from the UK via Kathmandu.
Fuel blockades across the India/Nepal border nearly caused a late cancellation of the whole trip with most Nepali internal flights being cancelled.
Fortunately the Buddha Air link with Napalgunj was spared.

Some damage from the earthquake in April 2015 was clearly visible in the capital but there was no harm the buildings or roads in the South-western areas.
BRINOS Volunteers
Rishi Bhatta (ENT Surgeon – Nepalgunj)
Chet Narayan Chaudhary (Accounts)
Sita Kumari Chaudhary (CEA Trainee)
Yamuna Budhathoki (CEA Trainee)
Ajaya Kori (Peon / Utility


Other BRINOS Staff
Ram Lautan Tharu(Cleaner / Stretcher Bearer)
Nepalu Tharu (Cleaner / Stretcher Bearer)
Babadin Kabadin (Cleaner / Stretcher Bearer)
Lalit Balmki (Cleaner)
Binod Harijan (Cleaner / Stretcher Bearer)
Feeroj Khan (Driver)
Team members from the UK
Neil Weir (ENT Surgeon – Guildford)
Sue Weir (Theatre Nurse)
Jonathon Blanshard (ENT Surgeon – Basingstoke)
John Skipper (Retired ENT Surgeon – Portsmouth)
Mike Entwistle (Anaesthetist – Great Western Hospital, Swindon)
Angus Waddell (ENT Surgeon Great Western Hospital, Swindon)
Rose Matthews (Theatre Nurse)
The Camp 57 Team at Traveller's Village
We were a team of 5 surgeons, 2 Theatre Nurses and 1 anaesthetist so we were able to do general anaesthetic as well as many local anaesthetic cases. In total 184 major ear operations were undertaken, mostly on local Nepali patients.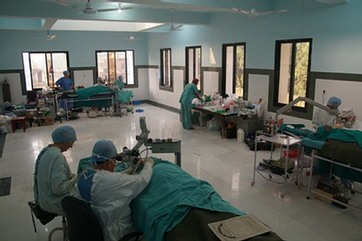 Operating inside the BECC for the first time.
(Even though it was in the future recovery-ward)
This was the first Ear Camp to be carried out in the new BECC Hospital in Nepalgunj. The hospital is not yet fully finished – there is no floor in the operating theatre – but we were able to set up 3 operating tables in the ward area.
The new hospital is a considerable advance on the previous facility with clean marble floors, a dedicated outpatient suite and sound proof audiology booths.
The whole camp seemed to be able to work in what seemed like a cleaner and smoother environment performing up to 20 major ear operations each day.