Copyright © BRINOS 2006-2021
BRINOS : A charity dedicated to the prevention and cure of Ear Disease in Nepal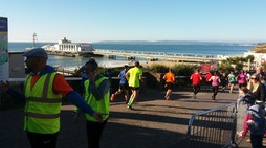 Marc says "I have lived in Nepal and know the Nepalese community in Aldershot. Mr Weir has helped my family and I for a long time and I have recently been helped by Adam at CUBEX. Both of them are established outstanding practitioners in their field.

We are raising money for this charity because it is an excellent way of helping people from a developing country who are not necessarily given much coverage in the press.
The effects of deafness on the welfare of an individual is often underrated and the potential to improve their lives can be done relatively cheaply. We have raised £200 from Alex Hibbert's talk on polar exploration in one evening. We should be able to supplement this by much more at the festival."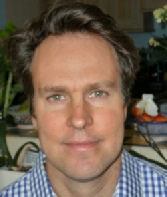 Marc Rattray, Manager of the Lewes Speakers Festival. In 2013, at the festival, they raised almost £400 so far for BRINOS.
Alison Wrigley: About running the 2014
London Marathon for BRINOS
Alison, who is a great supporter and team member of BRINOS, is shown here with "her" David, who ran the London Marathon for us the previous year (2013). Alison helped out then as well.
This year she has her own medal!
Alison Says:
"This one was not the best photo, but I had just run 26.2 miles! My time was 2 hours 41 minutes.
It was a very hot day for running. A great experience, especially crossing Tower Bridge and seeing a Rhino in a portable loo, with his mate holding the costumes head for him outside!
I feel proud to run and help in a small way BRINOS as its a great charity which really makes a difference to people in Western Nepal.
Best wishes, Alison Wrigley"
Funding for the BECC Hospital is complete.
Here are some of the Events that helped
A while back, whilst running home with her Dad, carrying hot burgers from her local shop, Debbie just sagged to the ground at the door (with asthma). But now she has built up her running and has just completed the 13 mile Half Marathon in 2hrs 24min

Now she has run the Bournemouth Half Marathon on 2/10/16 she would really love your help to raise more funds for BRINOS, a charity close to my heart!
Deb am not a natural runner. She used to come last at all school sports days but about 10 years ago a friends daughter saw her running and innocently remarked 'is that REALLY what you call running Debbie?"
However it's really thanks to Deb's wonderful friends that she decided to give running a go and hopefully help others along the way.
Deb was doing fine until 10 miles and then it became hard work along the Bournemouth Prom. At 13 miles She could "almost touch" the finish at the foot of the pier but then she realised she still had to run up and down that pier to complete the course: Quelle Dommage!
Mile 13 Debbie & Ann Claude (pacemaker ?)
Theatre Nurse Alison Wrigley and her running Club the Reading Road Runners have raised an astounding £22,227.0 for BRINOS . They did this by running, by car boot sales and employing many other activities.
We are thrilled with this amazing cheque and thank all the Club members for their hard work and especially Alison for her commitment to the Nepalese people.
Alison has also been a member of the BRINOS Ear Camp Team on many occasions. To quote an "anonymous" source, "She is quite some lady"
The suitably impressive cheque as presented to BRINOS at the 'Runners annual dinner and award ceremony.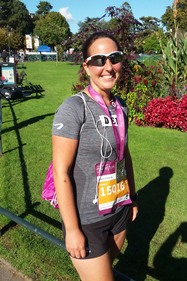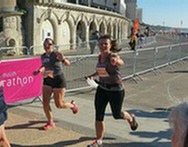 Debbie Clench ran the
Bournemouth Half Marathon on Sunday 2nd October 2016 for BRINOS.
Many thanks to
The British Medical Association (BMA)
The BMA Charitable Donations Committee for their generous award towards the completion of the operating theatre, providing air-con and fittings with hygienic surfaces.St Marks Overseas Aid Trust (SMOAT) for funding a specialist mechanical multi-positional operating table.
And, our Great thanks to:
The PF CHARITABLE TRUST, THE ANTHONY & PAT CHARITABLE FOUNDATION ,
MHA 776 Comparative International Health 2015, Pfeiffer University &
The WEPA for all their generous donations.
Reading Road Runners have been running for Gold for BRINOS.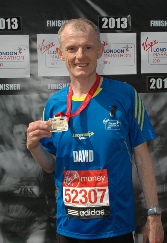 David says "I would like to thank all who generously donated to this worthy cause. As a result of the money you have given in support of my run, we have now raised almost £2,500 including gift aid, which will be a great help towards achieving the goal of building a permanent ear care hospital in Nepalgunj.
The race itself was a fantastic life experience - the crowds were often five deep, and extended right round the 26 mile course. The first six miles were especially enjoyable with people calling out your name as you were running along, and slapping the hands of children and wellwishers on the way through. We had a beautiful day, warm but not too hot, and bright sunshine.

They say a marathon race is in two halves, the first 20 and the last 6. After about 15 miles I started to notice the first runners starting to walk, and after 20 miles, I was feeling the pace myself. The last 6 miles were very tough, each one seeming to be longer than the last, and although my pace slowed a little, I kept running. Finally I could see Buckingham Palace, and the start of the countdown to the finish. I ran for the centrefinishing slot and was surprised to be greeted by Sir Richard Branson on the other side !
A memory I will never forget, and thanks to Sue, my sisters, and my partner Alison for their support on the day.
Thanks to David Cottam ran the 2013 Marathon for BECC in 3hrs 52min