Copyright © BRINOS 2006-2021
BRINOS : A charity dedicated to the prevention and cure of Ear Disease in Nepal







The Britain Nepal Otology Service (BRINOS) in partnership with the BRINOS Ear Health Community Service (BEHCS) is establishing the new BRINOS Ear Care Centre in the remote region of Nepalgunj, far from the existing facilities in Kathmandu.
Having purchased the site, it was realised that it would be better (and cheaper) to build anew rather than upgrade the existing structure. Thus came the opportunity to lay the foundation stone with warming spiritual significance.
Impression of the new building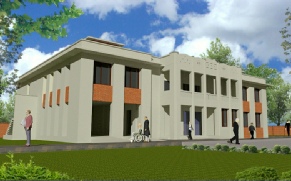 Laying a "Spiritual Foundation" for the BECC
The Foundation Stone Ceremony
In Hindu tradition the foundation stone (Picture 1) is buried under the most north eastern pile of a building.
The ceremony (Picture 2), which was very moving, lasted about forty minutes and took place at the bottom of an eight foot deep hole.
In Western tradition the foundation stone is rested on temporary bricks and, after the ceremony, is put to one side until the building is almost complete when it is then often positioned in an entrance porch.
Our stone was temporarily lowered into the pit (Picture 3) in order to be blessed by the Hindu priest.
The Priest was assisted by Mr Tushar Roy who works with the BRINOS Ear Community Health Service and the stone layers were Mr Bimal Tandon, chairman of BEHCS and Dr Neil Weir, director of BRINOS.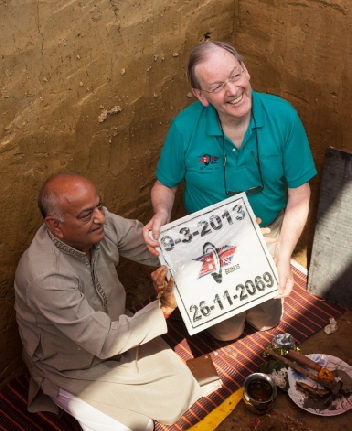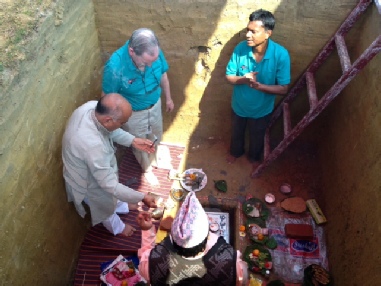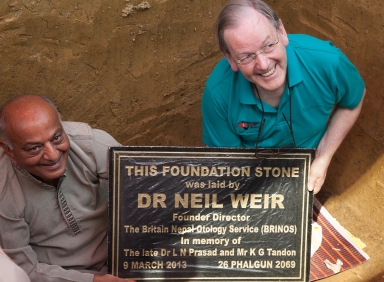 (1) Laying the Foundation Stone
(2) The Ceremony down in the Foundations
(3) Dr Weir with the foundation stone
<< A Google Maps satellite image of Nepalgunj, showing the site