Copyright © BRINOS 2006-2021
BRINOS : A charity dedicated to the prevention and cure of Ear Disease in Nepal







The provision of hearing aids is a vital step in the help that can be offered to deaf people. With the significant co-operation of Adam Shulberg (Cubex UK) BRINOS now operates a hearing aid programme covering the area serviced by the Primary Ear Care Programme (BEHCS) around Nepalgunj in western Nepal.
Operating a sustainable hearing aid service in developing countries presents many difficulties. Hearing aids are sophisticated electrical devices, which require modern batteries and occasional maintenance. Each hearing aid has to be fitted individually, with construction of a well fitting ear mould, and selection of the appropriate aid for the patient's deafness.
By training the Primary Ear Care workers in hearing aid fitting and maintenance BRINOS, in co-operation with Cubex UK, has established a fully sustainable hearing aid service.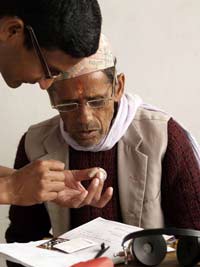 BRINOS has two (main) objectives in relation to hearing aid provision:
To encourage hearing aid provision in conjunction with future Primary Ear Care projects

To be instrumental in establishing a central hearing aid manufacturing laboratory in Nepal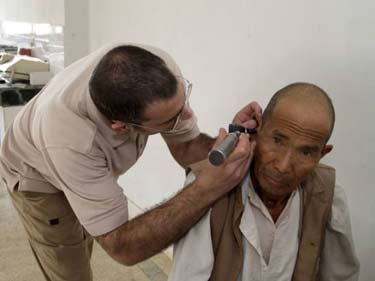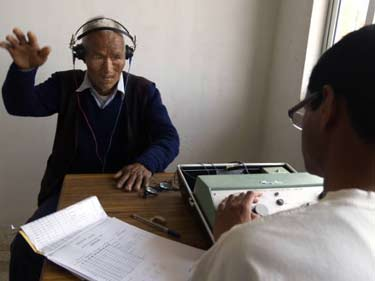 Adam Shulberg of CUBEX UK examining a patient prior to hearing aid fitting
Patient undergoing hearing test prior to selection of a hearing aid