Copyright © BRINOS 2006-2021
BRINOS : A charity dedicated to the prevention and cure of Ear Disease in Nepal







59th BRINOS Ear Camp, Nepalgunj, Nepal
14 - 21 November 2015
As a change to custom, we have an original camp report was originated by Mr Puran Tharu, the CEO of the BRINOS Ear Health Community Service (BEHCS). Thus it shows things with a little more interest from the local viewpoint. We also have an account by Robin Youngs, the BRINOS Camp 59 Leader.
Please select >
The 59th BRINOS Ear Surgery camp was conducted, in the new BRINOS Ear Care Centre in Nepalgunj from 14 to 21 November 2016. In six and a half days 111 patients underwent surgery.
Most of the patients came from the Banke, Bardia, Surkhet, Dailekh, Salyan, Kailali, Dhangadhi Doti, Jumla, Rukum, Dang, Pyuthan districts and from India.
The Community Ear Assistants selected those patients most in need of surgery. Those selected are checked by the expert team once more before surgery.
The team was led by Dr. Rory Herdman, with surgeons, Dr Rishi Bhatta, Dr. Ian Botrill, Dr. Matt Clarke and Dr Neil Weir. The anaesthetist was Dr. Kumar Panikker and the nurses were Allison Wrigley, Sue French, Mrs Pashupati Kumari Chaudhary (Mrs P), Mrs Yamuna Bohara and Sita Kumari Chaudhary.
Instruments for Endoscopic Surgery (kindly donated by STORZ) were used for the first time at a BRINOS camp.
Mr Puran Tharu and his team thanked the BRINOS team for their good work which will be continued between camps by Dr Rishi Bhatta.
It is worth noting that Dr Neil Weir was only able take part at the end of the surgery on this camp. He spent early part in meetings in Khathmandu arriving for the BECC opening and then after the camp, he performed some additional surgery.
After this, Neil Weir and Puran Tharu spent two days visiting the nearby districts of Kailali (to the west) and Dang (to the east) where they received a tremendous welcome with many garlands, watched beautiful Tharu dancing, and met with the important stakeholders to seek their cooperation in establishing primary ear care posts in their districts.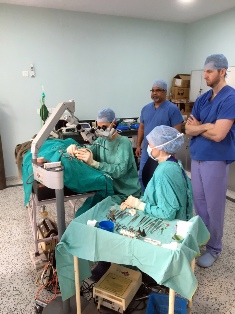 Nurse, Mrs Pashupati Kumari Chaudhary (Mrs P) assisting
Examination using the STORZ surgical endoscope. This gives a much better view inside the ear than the microscope whilst the screen display makes it a most useful teaching aid.
The team, before leaving Nepalgunj
Mr Puran Tharu's Account
Ear Care, The Future
The (BECC) Story
The (BECC) Opening
This is Mr Tharu's Account of Camp 59
Dr. Rory Herdman's Account